Home
WELCOME to Altered Ego Studios!
Please look around the site to learn more about how we may assist you in your search for your next tattoo or piercing.
Times are changing, and Tattoos and Piercings can be seen everywhere you go -on people of many diverse personalities and interests. We strive to bridge the gap that casts any harsh light on this beautiful and ornate field of art. We encourage artistic expression, and would love to help you find a suiting and appropriate piece of artwork or piercing that's just right for you!
Our Artists
Brandi Dalton , Owner, Tattooist, Piercer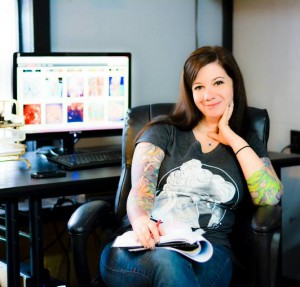 Brandi started tattooing in 1999 during her apprenticeship under Scott Lunn at Shoe's Tattoos in Schuylkill Haven, PA.
In 2006, she took over ownership of the shop and re-branded the business as Altered Ego Studios.
Brandi attends tattoo conventions and seminars multiple times a year to continue learning new art, tattooing and design techniques & styles. She comes highly recommended by her loyal clientele for being experienced in a multitude of tattoo styles, and her strict, clean execution of turning clients ideas into beautiful tattoo work.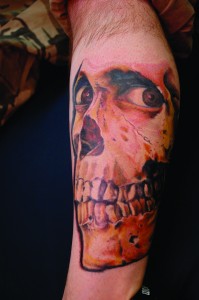 Brandi has more than half of her own body tattooed, including a full back piece, full sleeves, and thigh pieces, as well as most of her feet completely covered.
She drives over 9 hours to Massachusetts to be tattooed by her go-to tattoo Artist, Tony Ciavaro, but she's also been tattooed by Bobby Johnson of Arizona, and Mark Longnecker of Florida.
The longest tattoo sitting she's done on a client was a 10 hour replication of an Alex Grey painting in one session.
Besides art and tattooing, Brandi enjoys her 2 BMWs (TI & 330CI), and her 3 loveable dogs: Odin (Doberman), Cooper (Boxer), and Warren (Pit Bull).
Shelly McGinnis , Tattooist



Shelly started working at Altered Ego Studios in the fall of 2011, and completed her tattoo apprenticeship in May of 2013 under the direct guidance of Brandi Dalton and is now a full-time tattoo artist.
She has a degree in Graphic Design and brings 7 years of in-field design experience to the shop. She also has a heavy photography and portrait drawing background.
Shelly's daughter Dahlia is the apple of her eye and her biggest inspiration.
Our Studio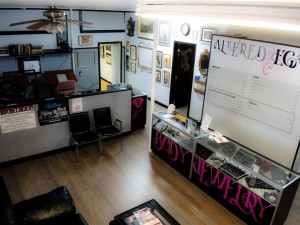 Shop policy mandates both girls have yearly updated Blood Borne Pathogen Certification and run the shop on those recommendations from the CDC and OSHA. The shop boasts a drug-free, clean, and professional environment.
We do request that all children under the age of 13 have alternate arrangements for care while a parent, guardian, or sibling are receiving their body modification.